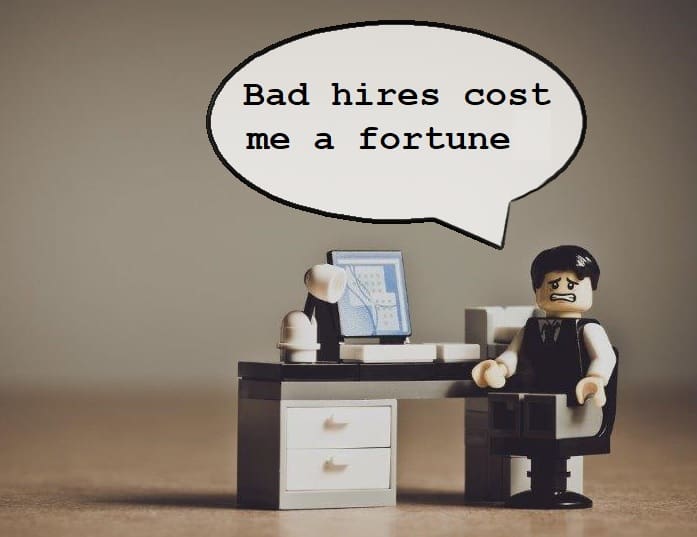 Cost of a bad hire? Don't let wrong candidates in
Is there a worse recruiter's nightmare than letting the right candidate go? Yes, it's letting a wrong person in. This may be someone who doesn't want to harm the company on purpose. But negligence and lack of competencies may also be extremely costly. Even if the person gets fired fast, the mess and trouble that's left may be very hard to tidy. Not mentioning time- and money-consuming branding, economic, and legal damages caused by intentional malpractice. It may take weeks or months to resolve.
Even if we are aware we've made a mistake the first day the new employee comes to work. It also takes a lot of money, time, and effort to make for this error. In an extremely competitive environment, like the IT job market is, we have to act fast, of course. But this may have a very bitter ending, even if we decide to hire a seemingly perfect match. Making a hasty decision about employing someone out of fear of losing the person is not a good idea. The huge burden of it sometimes turns out to be too much for a company to stand. How to find the balance between saving time and a thorough competency check? How to pre-screen candidates right, limiting the cost of hire?
The true and hidden cost of hire: bad apples
The mutual trust is something dubbed the foundations for fruitful cooperation, progress, and even innovativeness. On the other hand, we have to be sure we can trust somebody we are letting in our company. First of all, we have to keep in mind that the weakest link can ruin the whole team. If we hire a Trojan horse, it may have huge negative consequences regarding the company's finance and operation. It also affects the brand's reputation, and other employees' morale, dismantling the team and letting some great people go. It will take months if not years to rebuild, increasing the true cost of hire immensely.
It's better to let the black sheep go right away instead of waiting too long for the employee's adaptation. Keeping the wrong person for months is pointless and costly – and in more than one way. Remuneration is one thing, but you also pay for the employee's underperformance. It may be that the training doesn't give the desired results because the newcomer doesn't really want to learn. Or the person may just not fit the team, e.g. being too shy or too cautious. This may also end up with a worsening of the employees' team spirit as a whole. And assisting and watching the bad hire takes a lot of supervisors' time and energy.
Plus, the existing staff will probably have to manage a significant additional workload in the transition period. As it will take weeks training the new person once the wrong employee is finally fired. But it's way better not to rationalize bad decisions we made – the natural tendency we all manifest. It's smarter to face the music as soon as possible. This way we'll reduce the costs of this huge operation finding a replacement is.
Wrong people: the multidimensional cost of hire
Hiring the incompetent, unqualified, or clumsy people may do a lot of harm, increasing the overall cost of hire. But there are worse scenarios that may become our company's reality. These are employing dangerous people who can make our lives a nightmare. What can possibly go wrong? We may experience fairly every disaster we can think of, putting even a great business at risk.
First of all, we may lose a lot of resources. Confident information, trade secrets, money, clients' databases – that's just a tip of the iceberg regarding the stake. All kinds of fraud and deception are possible. Plus, there is incompetency and making grave mistakes, leading to clients' losses they may want us to compensate for.
And there are the employee's soft skills and personality traits. Sometimes, they can simply make the work environment abusive and hostile to others. Things like offensive, hurting, demeaning behavior of various kinds, e.g. actions, comments, and gestures may be on the cards. It may take the form of all kinds of violence, including mobbing, bullying, and sexual harassment. As well as harassment based on race, age, gender, or religion, and so on.
Employees who go through that most probably will experience various psychological and physical problems, affecting their productivity. These may be, for instance, anxiety, stress, cardiovascular problems, or even a life-threatening depression, resulting in very long sick-leaves. Turnover also gets higher and may run out of control at some point.
All these may end up in court, leading to costly, time-consuming trials that may be detrimental to the company. Just like branding and reputation damages, no PR specialist will be able to make up for. Plus, a bad hire-affected company probably won't attract high-quality candidates, and as many clients as before.
Hiring improper people: why does it happen? How to control it?
But why do recruitment specialists ever let bad hires happen? They must be aware that the long-term consequences of hiring Trojans are disastrous, greatly increasing the cost of hire. Well, sometimes candidates just turn out to be a little more clever, if not tricky or simply dishonest. Luckily, there are at least a few steps we can take to prevent a bad hire.
It often starts with a fake CV, and it's vital to stay cautious at that point. It's worth taking more than 30 seconds per resume to screen. We'd better verify all suspicious facts and figures, companies, and institutions. It's good to do it via telephone or online, and not during the regular face-to-face interview, to save time. And when we've got the feeling something's not right maybe it's better not to proceed with the CV. We may also ask candidates to perform short writing tasks to check their skills fast.
But still, there's the ethics and the reputation issue left. First, we can check the person's various social networking platforms in the search for improper photos, or vile comments. We may also perform a thorough background check. It may involve recruitment and education verification, as well as criminal, financial, or driver's screening. In some countries, there are professional companies doing these, including reference interviews with candidates' former supervisors.
On the other hand, it's good to promote reasonable referral programs. When a current, trustworthy employee recommends someone from his circle of friends, that may be it. First of all, it's that the alike people tend to stick together. Plus, nobody wants to let the boss down, so probably those recommendations will be of good quality. Many employers are well aware of that, using referrals systems among current employees as a major source of recruitment.