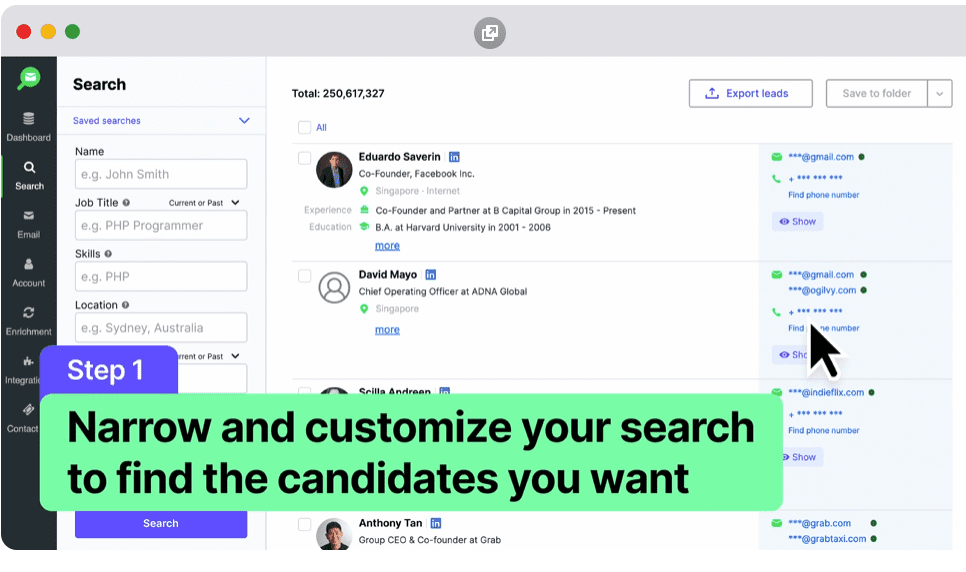 IT recruitment and ContactOut – recruit your staff with a new helpful email finder tool for recruiters
Chronic lack of time – this is the problem most of us face these days. It affects every industry. IT recruitment professionals also experience the feeling of being a slave to time. Many recruiters often spend hours doing their job to find the right staff. The recruitment process requires a tremendous amount of human resources work. They work on job offers for new positions, communicate with specialists, sift through candidate's applications and cvs and prepare the interview process. Working in the recruitment process means you need some time-saving recruitment tools and services. Fortunately, thanks to technology this is possible now. It makes IT recruitment much more efficient. Staffing solutions such as ContactOut, for example, allow you to perform many tasks much faster.
With ContactOut – a reliable compliant database of personal & work contacts at your disposal – you will efficiently prepare IT recruitment and find top talents. Follow the fast-changing IT market, current employment trends, prepare your hiring process, interview questions and onboarding.
IT recruitment – technological innovations in the efficient recruitment process
ContactOut is the most accurate B2B data analysis tool of 2022. Thousands of great recruiters have already trusted it. With ContactOut you can quickly and easily find, for example, email addresses and phone numbers in LinkedIn profiles. Then you can export them to Excel or Google Spreadsheet with just a few clicks. ContactOut is extremely useful in everyday recruitment agencies work. Staffing consultants and HR professionals find it a key tool in their work.
ContactOut is used in the recruitment industry by very well-known companies worldwide. Just to mention Google, Microsoft or Netflix. Not only headhunters, but also sales or marketing professionals use it. With the help of ContactOut, we can save your time creating best job descriptions for which we are recruiting. We can find the best candidates on the job market, organize their personal data or maintain relationships with our new employees by mail.
ContactOut for outsourcing and IT recruitment
The most important features of the ContactOut tool are designed with users in mind. They can easily perform activities that previously took up their valuable time and energy. Planning recruitment, keeping track of job portals, attending events to find candidates, or preparing an employment contract – the list of recruiters' tasks is very long.
With ContactOut's help, IT recruiting is much faster. You can personalize your outbound message with the email merge tool. You can also strengthen your network with a 90% data accuracy rate. ContactOut gives you the ability to automate time-consuming tasks, such as acquiring leads, for example.
As experts assure, job satisfaction with ContactOut is much higher. You can engage your candidates ten times faster. Saving leads from LinkedIn on your desktop, organizing them in folders and sharing them with team members are useful for both in-house and remote work. Within a few clicks you have a lot of your work done. Now technological innovations such as ContactOut are streamlining the already mentioned tech talent recruiting process, working in HR and other industries.
3 benefits of ContactOut for IT recruitment professionals and headhunters
Searching is a definitely worth mentioning first benefit. This user-friendly tool enables you to assess candidates' profiles directly through the ContactOut search portal. You have unlimited searches of contract talents at your disposal, so you can discover candidates that are not on LinkedIn, too.
Another useful feature is data enrichment. We can enrich LinkedIn profile URL in bulk. With this feature, we get full details of the profile of a suitable candidate, information about his or her employment so far, as well as contact information, including a personal email address.
ContactOut works perfectly with email campaigns. This is the third most important benefit of ContactOut. It means much less effort from an IT recruitment company. Thanks to reusable templates available in ContactOut while we browsing LinkedIn, we automatically send messages with job offers. Thus, at the same time, we contact many potential candidates and track their activity on the portal.
Plan your recruitment strategies with ContactOut for – useful organizational tips for recruiters
If you can do something in one step, why take two? If you can find a suitable candidate for a vacancy using tools like ContactOut, why not do it? It's true that most candidates don't make it to the interview stage. On top of that, unfortunately, there is also a phenomenon called ghosting. That's why you need to have your ideal candidate as soon as possible. Each stage of the IT recruitment process is designed to assess a specific set of skills or qualities. This will help reject candidates who are not skilled IT professionals early on, with no need to invest IT recruiters time and effort.
Time is money. Hiring is an expensive process, so make sure you don't burn money trying endlessly to find the perfect candidate in the talent pool. By the time you've completed your search, your would-be experienced team may be acquired by another company. Using constantly evolving tools like ContactOut will make you stand out from the competition. Quick, substantive responses make better impressions on quality candidates in any sector.
Recruit your staff effectively with ContactOut
Acquiring top talents with valuable technical competencies and written and verbal communication skills requires a thoughtful talent strategy. Make hiring plan and candidate selection decisions based on the latest recruitment data. Anticipate the time necessary to hire high demand tech professionals, and try to predict the problems you may have in getting them. Prepare a contract-to-hire for your information technology talents. Collecting data in ContactOut will allow you to work more efficiently and save a lot of money. In addition, you will save a considerable amount of time and energy.
What do employers need, and what is a prority for clients and candidates to achieve business success? Many technology talents turn down their dream job in favor of one that offers better pay and benefits. Some candidates, on the other hand, reject better pay and benefits for greater job security. All in all, IT recruitment is not a daunting task, but it's worth remembering that ContactOut tool is sure to improve it significantly.