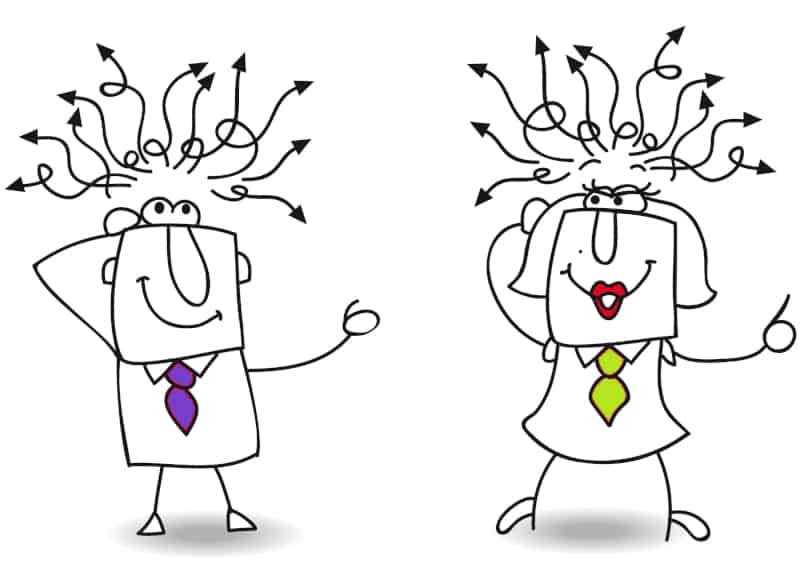 How to plan IT recruitment – a guide
We need a new employee! For now, or even for yesterday! Sounds like a recruiter's nightmare, doesn't it? In such a situation, it would be simply ideal to get started by opening the ATS system. It contains a list of candidates who have recently applied. With proper IT recruitment planning, finding a good candidate for any position is not that difficult!
A recent survey shows that 61% of organizations implement recruitment planning activities. Others, however, take an ad hoc approach to IT recruitment. The British association of human resource professionals CIPD (Chartered Institute of Personnel and Development) conducted a study. Afterwards they prepared a report on human resource planning. The aforementioned report shows that still less than half of companies plan human resources taking into account their current and future needs. What's more, only a little more than 1/3 of those companies collect data to identify skill gaps in their organizations.
IT recruitment- workforce planning-why plan?
In every area of life those who plan, act prudently and in an organized manner are more successful. The need for planning is therefore obvious. Unfortunately, lots of us often simply lack the time for it. Lack of good planning usually leads to failure. Studies show that as much as 65% of business failures are due to people problems. Only 35% are product, functional or market problems. That provides food for thought, doesn't it? After all, even the best team of employees will not avoid mistakes. Planning, however, allows you to anticipate these mistakes to some extent, minimize them and even avoid many of them.
There are many reasons for planning employment and IT recruitment. Three of the most important are as follows:
determining personnel resources your company needs allows effective achievement of your business goals,
planning recruitment early enough allows you to avoid recruitment mistakes and associated costs.
How to plan IT recruitment effectively?
When we plan IT recruitment we determine the needs of our organization. We consider what employees we will need and when we will need them. All in order to meet our business requirements effectively. We also estimate the resources necessary for recruitment processes and candidates employment. Keep in mind that we should take into account not only business growth, but also statistical employee turnover.
At this point it should be mentioned we do not plan every IT recruitment in detail. For example, we do not plan the recruitment for senior positions with too low turnover rate. Nevertheless, knowing that top-level employees also sometimes change jobs will allow us to prepare for such a situation and avoid an unpleasant surprise.
It is also worth noting that IT recruitment processes implemented only when an urgent need for employment arises are usually much more costly. They are often less effective than planned recruitment, too. It's like the proverbial digging a well when the house is already on fire. Similarly, for an unplanned recruitment we have much less time. Therefore we are less well prepared for it and the pace of our work is incomparable. This negatively affects the sourcing of candidates, their verification and final hiring decisions. In conclusion, IT recruitment done hastily causes recruitment mistakes, and these can be very costly.
How to plan hiring effectively?
As we have already mentioned, it is a good practice to plan hiring based on identifying future staffing needs. We need to know exactly how many employees we will need. We have to specify their qualifications. All in order to effectively achieve our business goals by hiring them. If a team headed by a manager is responsible for achieving these goals, the issue of expanding the team should necessarily be discussed with the person in charge. They know whether the resources they currently have at their disposal are sufficient. They can tell if the team is missing someone. They are aware of the team's competence gaps and can tell what hinders the effective implementation of tasks.
It is also a good idea to consider internal IT recruitment. This is seeking candidates for new positions among your current employees. Internal recruitment gives employees the opportunity to develop. It also means lower costs and less staff turnover. Statistics show employees with changed positions or promotions are much less likely to seek professional development outside the company. They seldom decide to change jobs, too. Internal IT recruitment is also a cheaper option. In this case we do not incur the cost of searching candidates in the labor market. There is no cost of vetting them from scratch, either. We wrote about the impact of candidate experience on employer branding in one of our articles. There are of course downsides of internal recruitment, too. It usually slows down the pace of acquiring people with external know-how or with a fresh perspective on the company's goals.
How to plan a budget for IT recruitment activities?
Planning the budget for IT recruitment is an extremely important step in the entire IT recruitment planning process. The budget for recruitment activities should be prepared very carefully. First, the estimates should include the cost of hiring internal recruiters or a recruitment company. Secondly, don't forget about the cost of the recruitment system. It allows you to carry out recruitment processes more efficiently and automate the candidate base for future recruitment. Finally, the budget must not miss the cost of recruitment ads. It has to include the cost of candidate vetting tools or the cost of maintaining new hires, too.
Let's summarize briefly the stages of IT recruitment planning. We suggest a "checklist" of the following four points. They will give you a hint of what to do and what not to forget about:
identify the organization's staffing needs,
determine whether current staffing resources are sufficient to meet our objectives,
determine whether to choose internal or external IT recruitment,
prepare a budget including the cost of recruiting and retaining new employees.
How to plan hiring effectively?
As we have already mentioned, hiring planning should start with the preparation of an IT recruitment plan. First of all, a recruitment action plan is a calendar. It contains dates of planned processes related to hiring new people in your organization. It also includes the different stages of the recruitment processes and time periods between them. It is worth bearing in mind that, depending on the position for which you are recruiting, the stages and schedule of IT recruitment may look quite different.
Planning various stages of recruitment or IT recruitment, determine who is to participate in each of them. Decide who is responsible for various activities. Plan in detail who works with the recruiting agency and who publishes job ads on portals. Think who makes the final decision on hiring a given candidate. People assigned to each stage know have to verify their actions. It must be a part of their work. Give them deadlines. Also, decide what the verification is supposed to look like and to whom the feedback should be given. Distribution of responsibility for various stages of recruitment is the basis of success in the IT recruitment process.
At this point, it is worth noting that absolutely not every recruitment process has to be complex, multi-stage and multi-person. Indeed, in most cases we encounter a simple recruitment process.
Looking for the best candidates – how to do it?
IT recruitment success is connected with success in attracting the right candidates. It is worth emphasizing – the right ones – not just some candidates. We must therefore do everything possible to attract the best ones. Planning must be the foundation of our activities.
We can distinguish two scenarios in planning IT recruitment activities. They often occur simultaneously.
Scenario one – sourcing candidates by our own efforts
In this case, we consult our IT recruitment plan with those responsible for sourcing new employees. This could be a recruiter employed by the company or an administrative or team manager. In this scenario pay attention to whether this person has adequate knowledge of candidates for the positions in the hiring plan. If this person has not recently recruited, it would be a good idea for them to prepare for recruitment. They should gather information from the labor market about the availability of potential candidates. They should find out their financial and non-financial expectations. The very information about candidates' financial expectations allows planning your budget for new hires. It also lets you estimate how long the recruitment will take. Remember, the smaller the budget, the more time and effort it takes to find and hire a good candidate.
When sourcing candidates by our own efforts, it's also a good idea to determine from the outset what methods will be used to find candidates, how long we will recruit, and what the cost of our search will be.
Different sourcing methods mean different costs. For example, you can post completely free ads via social media or FB groups. Alternatively, you can use paid advertising portals. You can try direct search, for example, through Linkedin. A mistake in choosing the way to source candidates can cost you a waste of money and several precious weeks.
Scenario two – sourcing candidates in cooperation with a recruitment agency
In this case, we outsource the search to an external company that specializes in IT recruitment. It is necessary to choose the agency very carefully. This choice will determine the success of our recruitment, or contribute to its failure.
If you are looking for high-level professionals, outsource your executive search to professional recruiters. With their help you will find managers and specialists with well-defined competences and experience. This applies to both soft and hard competences. Employees of the agency are specialists who not only understand the needs of clients. They also have a thorough knowledge of the market. They are able to select appropriate methods. Thanks to this, they successfully implement a variety of IT recruitment projects.
It is necessary to check carefully the credentials of the agency and its individual employees. They will be responsible for the implementation of our recruitment. It's worth checking, for example, their Linkedin profile. We can read there about their experience. We can find references from previous clients and candidates, too. Also, determine in advance what the sourcing and vetting of candidates will look like. Check whether the company is listed in the national register of employment agencies. It is a good idea to ask for the proposed number of candidates and the deadlines for their delivery. We can also expect a guarantee from the agency for the performance of the recruitment service. It means we are entitled to receive another matched candidate who accepts our terms of employment. For more information and tips on how to start working with an external recruitment agency read our article.
Effective implementation of the IT recruitment plan
A plan is one thing, of course, and its implementation is another. However, it is always worth paying attention to a few key factors for the successful implementation of any recruitment plan. First, a competent, agile person responsible for implementing the IT recruitment plan. Second – a set of basic tools. You need a task management system. An ATS system for managing and automating recruitment processes and building a candidate base is useful, too. Prepare Google / Office tools (calendars, instant messaging tools). Third – adequate budget for recruitment (for ads, direct search or agency services). Finally – time to conduct the recruitment in a reliable manner. Without a carefully prepared plan and without the aforementioned accompanying elements the recruitment process success seems completely unrealistic.