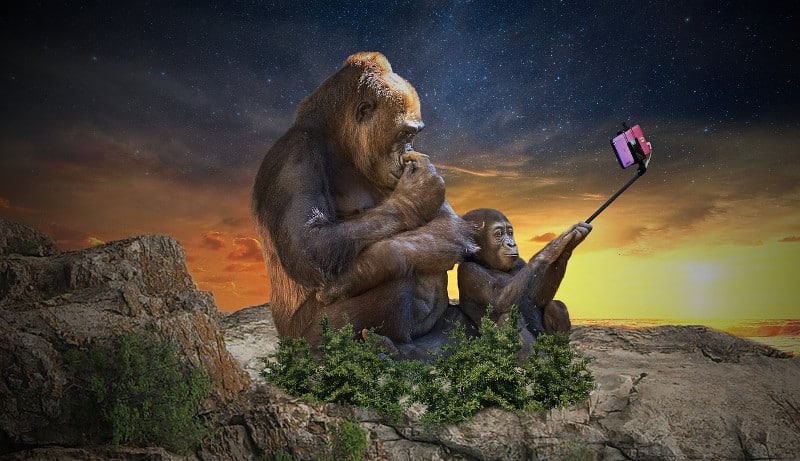 Don't be a zombie – don't let the smartphone dumb you down
Each day we are being surrounded by screens. If we work in an office, we are spending at least 8 hours a day staring at the computer. There is at least one TV in almost every house and apartment, and we use it to pass our free time. More and more stores are installing huge, bright screens as part of their shop windows and attack passers-by with ads. It is said that all of those screens are harmful to our health. However, the most dangerous one is simultaneously the most inconspicuous one – the phone.
No one will argue with the statement that smartphones were made to make our lives easier. An angular, space-consuming desktop computer has evolved into a laptop, which is more convenient but still too big, to finally become a handy tool that we can take with us anywhere and do everything on it.
However, together with all the solutions and facilitation, there also came addiction. The small, luminous screen is usually the first thing that we see immediately after waking up and the last one before going to sleep (some even check the phone during the night). During meetings with friends, we do not engage completely, but often check if we got a text or notification. When driving a car, we look at the phone instead of focusing on the road. Similarly when crossing the street. The most popular way of spending time while commuting is to browse the internet on our phones. When we want to take a break from work, we usually reach for the phone to see what the Internet has been up to since our last visit. The smartphones are with us everywhere: in the queue to the doctor, on a date, while eating dinner with family and even during a visit to the toilet.
Why is that?
When we use smartphones (and especially when we get a notification), our brain triggers dopamine release, which is responsible for the so-called reward system and affects our well-being, motivation, and energy level. Increased production of dopamine induces the feeling of excitement, satisfaction or even euphoria. It is the same dopamine which our brain feeds us during smoking, drinking alcohol or gambling, so highly addictive activities. All these things make us feel good and allow us to forget about the problems and stress of everyday life, which makes us reach for them even more.
Another factor that influences our smartphone addiction is the FOMO phenomenon, which is the abbreviation of "fear of missing out." In general, this is an irrational fear that we're going to miss an event or a piece of information, but we are not even able to accurately determine what we're missing. We are afraid that during the time we are away from the phone, something will happen somewhere and we will not witness it. Paradoxically, it seems that it was much easier to get and categorize information when people learned about things from newspapers or few available television channels. Currently, the amount of information we receive daily is enormous, and the way in which the news is presented makes each of them seem relevant. On the other hand, as soon as news appear, they become obsolete and replaced by something else. In order to be up to date and have something to talk to with your friends, you have to check your phone all the time – this is the only way to deal with FOMO.
We must also mention the smartphone applications and games, which are created to attract our attention as much as possible and to make us use them as long as possible. To design those applications, their creators use behavioral psychology. Thanks to that users use certain applications on a daily basis and have the impression that they can not live without them.
Smartphone addiction can lead to problems with emotions, concentration, poorer quality of work and arguments with relatives among other things. Apart from changes in behavior, it can also make it difficult for information to travel between nerve cells in the brain. To be very blunt – using smartphones slowly dumbs us down. Even if we realize that we have a problem, getting rid of the addiction is very difficult. For some, the dependence is so strong that they can not imagine leaving the house without a phone for only 5 minutes, they get angry when they can not find cell range or WiFi, and the low battery and the inability to charge it makes them panic. People who do not have a phone at hand can display annoyance, irritability, depression, and anxiety. Addiction to smartphones is particularly dangerous for young people who currently have problems with identity and establishing deeper relations in the "real world," so they turn to social media to deal with their problems. Unfortunately, research shows that the more time a person spends on Facebook or Instagram, the higher the risk of depression.
Can we do something about it?
Let's be honest. These days smartphones are everywhere, and even if we had the best intentions and tried as much as we can, it will be difficult to get rid of them completely. You have probably noticed that if you don't have your phone in your hand on the bus or while waiting in the queue, your eyes unknowingly go to someone else's device. It has slowly become a reflex reaction like breathing or blinking.
However, you can try to help yourself. One of the solutions will be installing an application that will measure how many times you have unlocked your phone and how much time you spent on it (the results might shock you). Such applications usually have built-in notifications, which will tell you when your level of phone usage becomes disturbing or even disable access to some applications. It will be a good idea to get rid of the applications which take a lot of your time or turn off notifications so that you can decide when to check them and not be controlled by your phone.
We should also invest in a traditional alarm clock and do not leave the smartphone next to the bed. Some even suggest leaving your phone for the night in a completely different room than the one in which you sleep. Thanks to this you will get rid of the automatic reaction of reaching for the phone first thing in the morning, and in the evening you will be able to relax while for example reading a book, which will significantly improve the quality of sleep.
Do you think that smartphone and Internet addiction can be considered an epidemic?
And for the recruiters and other people whose profession revolves around the phone – can you spend more than a few minutes without it?