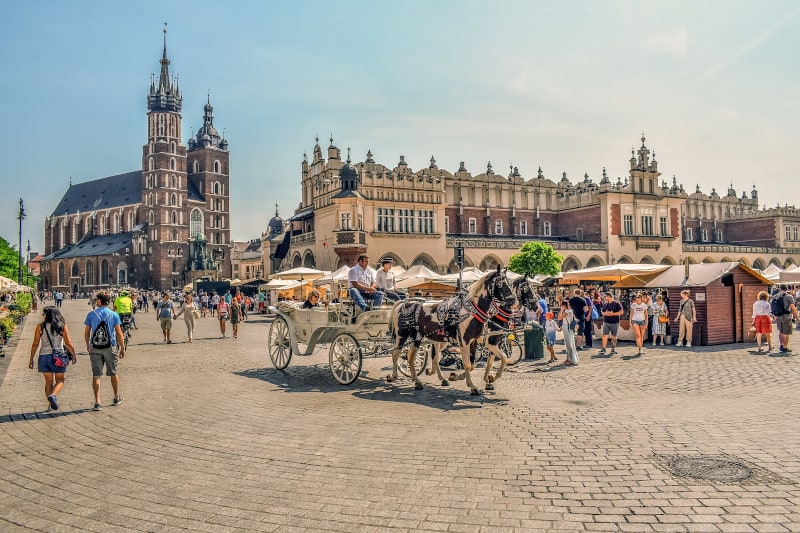 Poland – a place to invest in the post-Covid world
There is no country in the whole world that the Covid-19 pandemic hasn't influenced. There are many, like India, or the US that have been hit by it very strongly. Some places, however, have managed to weather this sudden storm considerably well, e.g. in economic terms. But to make it happen, the economy of a given country must have been strong even beforehand. The state's overall condition is very important now, as we're slowly approaching the end of the health crisis. Because we certainly are as the vaccines are in mass use in a growing number of countries. So it's high time we started getting ready for living in the brand new world.
Stability paired with resourcefulness are certainly the pillars of future success. And there's a country that does great in these regards, being the right place to invest in the post-Covid world. This place is undoubtedly Poland, a promised land for investors. It's been named the 3rd best country to invest in or do business for 2020 in the CEOWORLD Magazine study. It was just behind winning Singapore and the second the United Kingdom.
What factors have been taken into account? They included corruption, investor protection, taxes, infrastructure, quality of life, trade, personal, and monetary freedom, and technological readiness. In the case of Poland, institutional framework, market potential, and skilled labor force gathered one of the highest scores. On top of that, a great asset this country has to offer is undoubtedly IT recruitment Poland. But let's have a look at some of the reasons why this place stands out, often being a head-turner.
Poland – a surprisingly great place
For many foreigners who have never been there, including investors, a close encounter with Poland is a true revelation. Very often it's because they think Poland is an "Eastern-European" country, whereas, in fact, it is a Central-European one. It's there for a reason – a geographical, historical, and cultural one. It simply shares civilizational bonds with states like Germany, Austria, Czech Republic, and Hungary.
But why do they put Poland next to Eastern-European countries like Ukraine or Belarus? It's because after World War II Poland had been a part of the Soviet Union's Eastern (or Communist) Bloc. Thus, for about 45 years, Central Europe had been divided into two parts. But for over 30 years Poland has been free to decide, becoming a member state of NATO and EU. And offering access to its own vast market, including the job market. Also, Poland uses Central European Time, like all Central and almost all Western European countries.
Anyway, centrally-located Poland is close in cultural and geographical terms to both Eastern and Western European countries. It is a great starting point to such places as Scandinavia, Baltic States, Russia, and the Balkans. Being in Poland, it's easy to reach distant locations, and neighboring countries, but also particular domestic destinations. It's due to an extensive and easily-accessible road, railway, and aviation infrastructure. In 2018, 15 Polish airports offering commercial passenger service served nearly 46 mln passengers.
Also, Poland holds a title of a country with very high human development, ranked 35th out of 189 states. It's the Human Development Index (2020 report), compiled by the United Nations Development Programme using 2019 data. It encompassed such factors, as health, education, and Gross National Income per capita. Poland is ahead of such countries, as Portugal (38th), Hungary (40th), Russia (52nd), Turkey (54th), and Ukraine (74th).
Poland's highlights. Why IT recruitment Poland is a good idea
Poland's huge economic success within the last 30 years wouldn't be possible without its incredible people. For a few past decades, Poland has had an opinion of a vibrant, promising hub of the talented, high-qualified workforce. Not only are they skilled but also very entrepreneurial and innovative, and this applies to IT people, too.
The country's developers are definitely among the best in the globe, doing great in various ratings and competitions worldwide. For instance, Poland scored third in the ranking of the best developers in the world by country in 2016. HackerRank, a world-renowned technical recruiting platform, organized it, and Polish developers got 98 points out of 100 possible. They often start coding at a very young age and usually are very passionate and versatile in what they do.
They work either on a freelance basis, B2B contracts, or employment contracts – all forms of cooperation are possible. Also, remote work is getting immensely popular in Poland, not only due to COVID-19 pandemics. Top-notch technologies, tools, and cutting-edge solutions have been in common use in Poland even before. They concern e.g. making contactless payments, cybersecurity, online businesses, and more. It's possible thanks to all Poles' swiftness, cleverness, alertness, and genuine entrepreneurship and innovativeness.
What's important, IT specialists are available and easily accessible across the whole country. There are at least several academic hives with dozens of thousands of graduates each year. Apart from capital Warsaw, these are Krakow, Wrocław, Gdańsk, Poznań, Łódź, Szczecin and Lublin, attracting thousands of foreign investors. Poland is also a promised land for talented IT specialists from neighboring countries, such as Ukraine or Belarus. This way, IT recruitment Poland goes smoothly for companies interested in getting some of the best developers in the world.
Post-pandemic IT Recruitment Poland
But is it still true in the second year of the COVID-19 pandemics? Well, interestingly, Poland has an intriguing inner power to weather various storms, harmful or detrimental for others. For instance, it was so during and after the economic crisis of 2007-2008, when Poland became the "green island". The country's economy was growing and outstanding amidst the red ocean of other European countries, greatly affected by the recession.
And it is similar now. Poland is to be one of three UE countries (out of 27) to suffer the post-covid recession the least. The country's economy is to shrink only by 2.8% in 2020, according to European Commission's Winter 2021 Economic Forecast. The unemployment rate is still low (6.5% in January 2021), lower than in the whole EU (7.6% in October 2020). What's important, Poland still offers growth opportunities in many areas, sectors, and industries. And IT recruitment Poland certainly can help many foreign businesses expand and rebuild after the COVID-19 disaster.