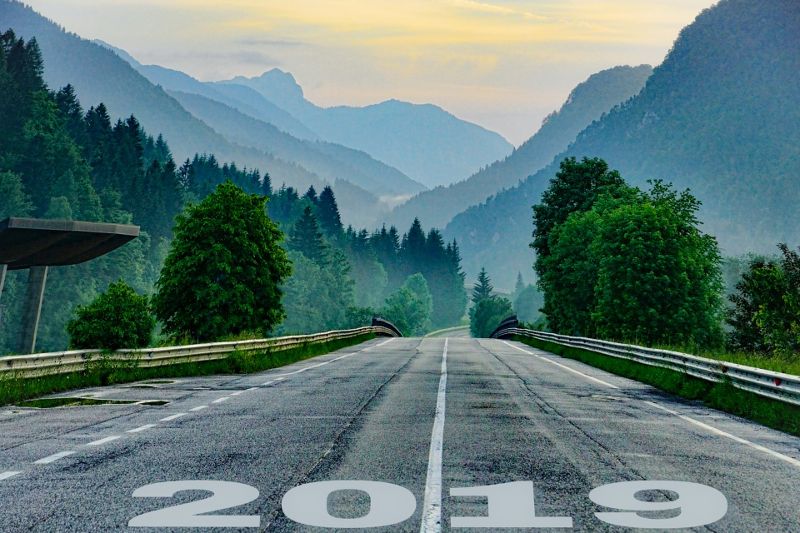 4 things you MUST do in 2019 to succeed in recruitment
As the end of the year is near it's time to sum the last twelve months, but also to predict what awaits us in the future. Here are some trends that will be the most important in the recruitment industry in 2019.
1. Believe in artificial intelligence
Artificial intelligence is extremely useful in every aspect of life. Why not give it 100% of our trust and let it control the whole recruitment process? Modern tools will significantly reduce the time and costs of recruitment and candidates will be ideally suited to the company's needs. Everyone will benefit from this.
2. Keep the feedback to yourself
You found the perfect candidate, you got a CV from them and sent their application to the company. Congratulations. Your work is done. Now you just have to wait for celebrating your success. It turns out that it didn't work this time? Well, it happens. You forget about the candidate you had sent and start a new search. However, the candidate thinks that they are still in the process, or that maybe their CV got lost somewhere, or that maybe the company has forgotten about them, or that maybe this company is not very serious if they ignore candidates, or that maybe …
3. Put the phone down
Well, why bother, if everything can be done by mail or LinkedIn? It's true that it will take much more time and there is a chance that your message will get lost amongst others, but you can neatly describe everything in an email and send it to many people at once. Saves time, right?
4. Do not analyze profiles and send standard messages
A recruiter is a busy person with a neverending list of duties. We do not have time to look closely at each profile on LinkedIn and get information that will help us in personalizing messages. Copy-pasting was, is and will be the best solution. It has worked so far after all. And the reason why we did not get an answer is definitely the candidate's fault, not the fact that the content was bad.
We're kidding.
You probably thought something was wrong with us when you read this. We must admit that this was our plan all along. Instead of being totally serious and telling you what will be the trends in recruitment for 2019, we wanted you to pay attention to the bad side of recruitment, which unfortunately is still there. Maybe it will make some people think?
Process automation and artificial intelligence will surely be helpful, but only in the technical aspect of our work: matching the CV to job requirements, quickly searching through the database or analyzing the CV for keywords. Recruitment is a very "human" profession in which soft skills, sales and negotiation skills, intuition and empathy are essential. Each candidate is a unique person and should be approached individually. Artificial intelligence will work according to one assumption and pattern; however people can't be put into one standard box that fits all. AI will not build a relationship with the candidate and will not establish any long-lasting contacts. Besides, chatbots still have problems with questions they do not expect, such as "Where are you from?" Think for a minute: do you want your personality and character to be omitted entirely while applying for a job and be treated only as a set of qualifications on paper that will either fit or not?
So we have good news: in 2019 people will still be the decisive factors in the recruitment process.
In 2019 and the following years nothing will change: candidates who do not receive feedback will continue to feel disappointment and even anger. It's not surprising really. They did not take the time to prepare a good CV and talk to the recruiter just to be ignored at the end. Treat them the way you want to be treated. Remember that everyone deserves feedback and the more detailed it is, the better. Negative feedback is also valuable because it lets the candidate know what can be improved and which skills to work on. Whether or not we speak to the candidate after the interview will also affect their opinion about the company as a potential employer. To sum up: providing feedback is one of the most important duties of a recruiter. Make sure that in 2019 each of the candidates you present to the client knows how their application was received. Once again: treat others the way you want to be treated.
The phone should be the recruiter's primary tool. Once there was no LinkedIn. If we go back earlier, the Internet didn't even exist. By calling we can reach the candidate faster and more effectively. We are already establishing a relationship, and if we conduct the conversation in the right way, we will certainly be remembered instead of being just another impersonal message in the mailbox. We realize that it is not always easy, because it might be very difficult to reach the candidate or they may not have the time to talk but even one minute of a conversation can make a difference.
The world is constantly evolving and technologies are moving forward, but if you want to stand out in 2019, focus on developing skills that recruiters used years ago: learn to talk to, convince and understand other people well. Show that there is a person on the other side and not a machine.
Failure to analyze the profile and career path is probably one of the worst things that can be done not only to the candidate but also to all of the recruiters. No person can determine the candidate's skills just from the headline on a LinkedIn profile and be right. Unfortunately, there are still recruiters who only look at the profile of the candidate in search for the keywords, and if they find them, they send a ready message they wrote at the beginning of working on the project. And that's how we end up with situations like sending an offer for a C ++ Developer to a recruiter, who is also looking for C ++ developers and wrote that on their LinkedIn (believe it or not, but we did get such message) or suggesting a position of Java Developer to a manager. It does not do anything good for our profession and makes the candidates distrustful or even angry. Such experience can result in the candidate not wanting to talk to any headhunters ever again.
Let's promise each other that in 2019 we will focus on quality: we will carefully look at each candidate individually, analyze their career path and skills and create a personalized message. Let's show that we are not "another recruiter who does not read the profiles", but professionals who have not chosen this profession by accident.
We'd like to take this opportunity to wish all the readers a peaceful and merry Christmas and a happy New Year. Spend this special time with your loved ones by doing what you like best and do not think too much about work and problems. We hope that the upcoming year will be filled with both professional and personal successes and that you will find some time to develop your passion and make your dreams come true.